Programs and Activities in our Resort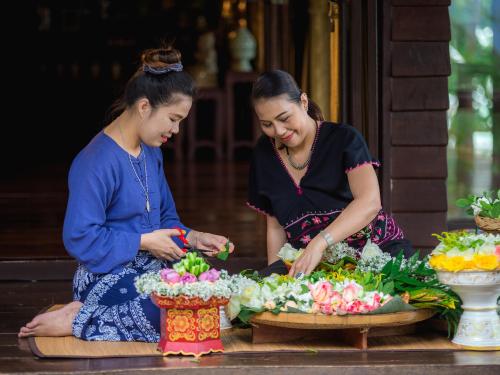 Here at our resort, we offer various of programs and activities. Whether it be northern traditions or overall Thai culture is available at Jirung Health Village. Below are some example of the most interested and enjoyed programs and activities by our guests.
 
PRAYER & MEDITATION
An individual practice to create peace and happiness for the body, mind and soul. Meditation is well-known for building immunity and restoring health after illnesses.
 
FOUR ELEMENTS ANALYSIS  
This is our unique offering. Four Elements Analysis encompass the divine art of health analysis using Thai astrology and the ?personal destiny? (oracle) of the guests. It combines the principles of four elements: earth, water, wind and fire, and other environmental elements to determine the nature of the current illness, and possibility future as well. This technique will give you an insight on how to have a balancing lifestyle.
 
FONJOENG (Antique Material Art for Wellness)
FonJoeng is also known as ?Lanna Tai Chi.? This form of art was created and evolved over 700 years in the ancient age of Lanna. Predominantly governed by a feudal system, this region with its large territory and community has military conflicts while trying to establish itself as a kingdom, which inevitably needed regular soldier combat training programs. Records and accounts of FonJoeng, including close-combat and swordsmanship martial art forms can still be found on palm leaf scriptures in Lanna characters from the area. Today, FonJoeng has become a popular recreational exercise in northern Thailand. With its unique identity and style, FonJoeng often demonstrated and displayed at local festivities.
 
HATHA YOGA 
This type uses a set of physical postures and sequences to balance the body, mind and soul, as well as aligning the skin, muscles and bones in preparation for meditation. The postures and sequences were also designed to open many channels throughout the body also known as nadis for energy or prana to flow freely.
 
THE ART OF BANANA & LOTUS LEAF FOLDING
Thai people use banana leaf for wrapping food and fold the leaves to make all sorts of colorful decorations for festivals. The lotus flower is also folded in delicate triangular shapes before being presented to the Buddha at the temple. Both the art of banana leaf and lotus leaf folding were handed down from mother to daughter in the past.
 
FOLDING PANDAN LEAVES INTO FLOWERS
Pandan leaves (bai toey) was used by Thais for many different purposes. Small squares of the leaves are often cooked with rice or added to desserts to give them a distinct aroma and attractive green hue. Pandan is also very useful for making handicrafts. The young leaves are sliced into thin strips which can then be woven into baskets, mats and other everyday household items. Join us as we show you the secrets of folding the leaves into charming and attractive flowers. These flowers are used for decorating the home or for offerings in the temples to the Buddha image.
 
FLOWER GARLAND WEAVING
The elegant art of weaving flower garlands has always played an important role in Thai culture. Phuang malai, made from sweet smelling jasmine blossoms combined with a variety of colored flowers, are given to welcome guests and to decorate religious shrines.
 
HERBAL BALL COMPRESS MAKING
Learn how to make a traditional herbal compress from a variety of healing Thai herbs in accordance with ancient recipes which are then skillfully wrapped in muslin into a tight ball. Traditionally the compress includes a mixture of six dried herbs including lemongrass, plai, turmeric, kaffir lime, camphor and tamarind leafs.
 
THE MORNING WALK
Join us on an hour long walking tour around Jirung Health Village in the area of over 52 rai. And visit the three holy places of Jirung Heath Village
 
            Kindly note that the above programme is subject to change and one activity may be substituted for another without advance notice. Please ask at the reception to confirm the day?s activity or check the schedule provided in your room.